Whether you crave a serene, relaxing master bedroom that invites zzzzzs or a bold, sexy bedroom that summons some sizzle, our recent interview with Jenna Denson has us musing about the power of bead curtains to bring affordable, blingalicious luxury to your boudoir.  Just in time to be a little Christmas present to you. Or to your sweetie. Or better yet, to both of you.

Let's start with the waterfall effect that Jenna Denson of JDS Designs created in the best little boudoir redo in Texas, since this gorgeous wall o'bling is what got us thinking about beaded accent walls in the first place. Using crystal bead strands, she went far beyond the obvious wall solutions, combining a muted paint with subtle sparkle to create a sophisticated showstopper of an accent wall.



Want to cuddle up a bit closer to that wall? We don't blame you ~ here's a little cozier view. We kinda love that wall.



We love this take on a similar idea ~ this time with a classic shade of aubergine and a thoroughly glam vibe. Well, except for the laptop. But that can be a New Year's resolution once you have a boudoir that inspires, um, not work. (We're loving the beaded chandelier, too ~ awesome reading light, with plenty of visual ooh-la-la.)


And another take on the same beads-as-bedroom-accent-wall concept ~ this time with pretty capiz shells and a monochromatic color scheme.



This use of bead curtains makes the most of both form and function. The wall of beads sets off the recessed window seat, while still creating an intimate space. We love the bold color scheme, too ~ reds, golds, and purples melt into a rich palette of sexy color in this luxury apartment master.



And although it's not *technically* a bedroom, the master bath certainly deserves plenty of TLC in any renovation. Here is one of the sweetest, sexiest master baths that we've seen lately. Chain curtains lend a sleek modern vibe, and we could even see replacing the reflective wallpaper with a layer of mirrored curtains to add motion and dimension.



And here is another decadent modern dressing room featuring chain curtains to divide space without sacrificing the view of that amazing mirror.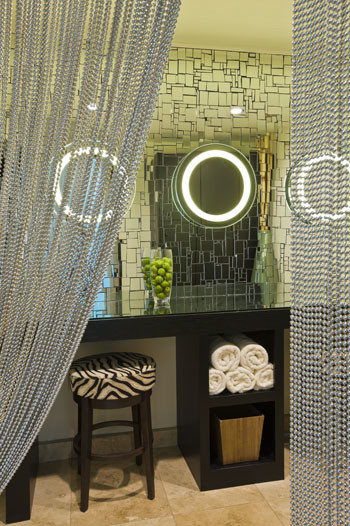 So, if you've got $100 (or less) and 30 minutes (really), you can create a stunning accent or dividing wall in your master suite, and bring the sexy with a side of sparkle. We think that that is a pretty good Christmas gift to a very deserving person on your list: you. (If you have questions about installing bead curtains, browse these videos for step-by-step instructions. And then watch this one of Colin Cowie, because he is fabulous.)